Case Studies
Rehabilitation Of An Edentulous Mandible With Five Implants And Fix Prosthesis
Dr Firdaus Hanapiah
BDS(Otago) MSc(Lon.) FDSRCS(Eng.)
Introduction
Rehabilitation of the fully edentulous has always been a problem for prosthodontist especially when there a considerable resorption of the maxillary and mandibular bone. In the past , remedies were created to counter such problems. These may include from tissue adhesive to denture or more invasive procedure such as sulcus deepening or bone graft augmentation of the ridge. These procedures were however only partially successful in countering such problems and often enough created new problems as a consequence. With the advent of dental implants, the bridge over denture could be secured directly to the underlying bony support thus preventing any displacement of the over denture. It is also beneficial over the longer period of time due to the direct loading of the bone thus slowing down ridge resorption.
Case Study
A 63-year-old Chinese man requested permanent fix prosthesis due to denture intolerance. Upon examination it was discovered that he had a resorbed ridge and a high mentalis muscle attachment. After discussion with the patient it was agreed that a total of five implants would be placed on the mandibular ridge. The surgical procedure, which took about 45 minutes, was performed without complication and is left to heal. Three month later a second stage exposure was done to exposed the implants (Figure1).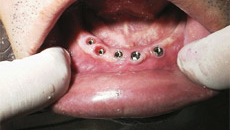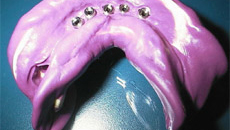 At all time the patient had some temporary dentures for him to wear for the three months waiting time. A week later a second stage impression was taken (Figure2) and the metal base prosthesis was constructed.
A fourth visit was then arranged for the metal base wax teeth try in (Figure3). An X-ray was taken to ensure that the prosthesis fitted perfectly on the base (Figure 4). Once this was satisfactorily done it sent back to the lab for final processing.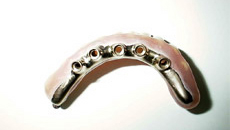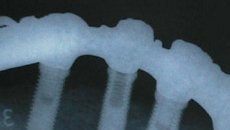 The fifth visit saw the fitting of the fix over denture and final occlusal trimming (Figure5). The patient was recalled every three months for the first year and every six months for subsequent years.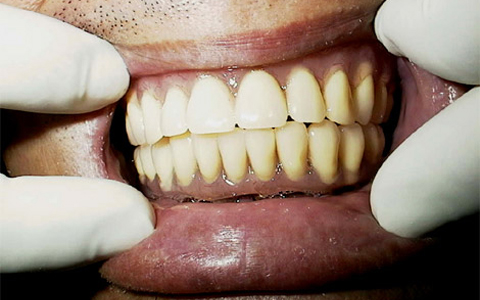 We waited four months before exposing the implants after which a final impression was taken. It was decided that Mag-fit magnets (Aichi Steel) were to be used as the retaining component for the final over-denture. However there were no precision components available to fit the magnets to the implants with such a narrow diameter. We decided to custommake the abutments as shown in fig.3.
Care and Maintenance
The care and maintenance of the fix overdenture would be more or less similar to teeth or conventional bridgework. Although this prosthesis will not decay, they are liable to infection if not maintained in the proper fashion. Studies in Sweden have shown that with proper maintenance and recall checks this prosthesis is known to last more then 30 years.