Case Studies
Dental Implants after an Accident Looks Like Teeth… Feels Like Teeth… Taste like Teeth!
Dr Firdaus Hanapiah
BDS(Otago) MSc(Lon.) FDSRCS(Eng.)
Introduction
The patient came to see us after an unfortunate accident in which he lost his upper right front tooth. The tooth was lost during the accident and reimplantation of the tooth was deemed impossible.
After cleansing and debridement of the upper maxilla were done, it was decided that a single implant would be placed immediately into the socket within the same day as there was no dento-alveolar fracture seen. An impression was taken and a denture was ready within 24 hours so that he could be back at work with minimum inconvenience.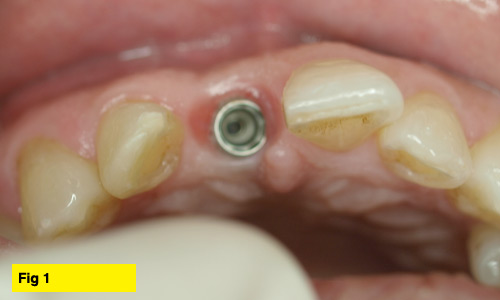 Fig 1 : A review of his case was done and a picture was taken of the implant root (Fixture) after a three-month hiatus.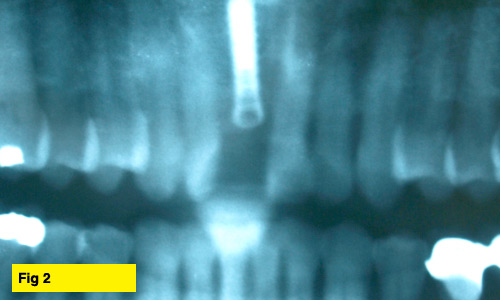 Fig 2 : A periapical radiograph was taken three months later to show full recovery of the bone around the implant.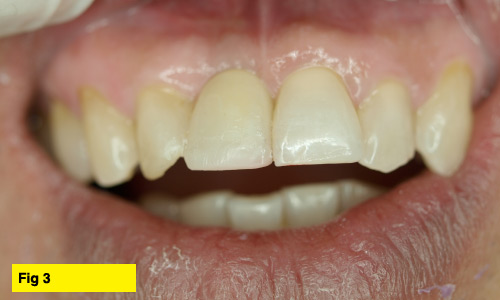 Fig 3 : Three months later a zirconium crown was placed and his dental rehabilitation was completed.
Discussion
It is worth noting that maximum aesthetic value can be achieved if implant therapy is done immediately after the loss of a tooth especially in cases of trauma. The longer the wait means more soft and hard tissues are lost. However immediate implantation of dental implant after an extraction of a periodontally involved tooth (tooth with gum problem) is not recommended as there may be residual infection in the sockets of these teeth.
Conclusion
Immediate implants are a treatment of choice for trauma patients who have lost their teeth in accident as they will preserve most of the soft tissues as well as reducing the clinical steps of surgery. The appearance is also enhanced as more bone and gum tissues are preserved.