Case Studies
From Zero to Hero
Dr Firdaus Hanapiah
BDS(Otago) MSc(Lon.) FDSRCS(Eng.)
Introduction
Robert is a successful real estate agent who lives in Melbourne, Australia. He is a fit and healthy person who exercises regularly and has a good lifestyle. However he had one handicap that was a hurdle for him especially when meeting clients in his line of business.
Many years ago, he was involved in an accident and the lasting malady of this was two severely chipped upper front teeth which were quickly capped. However, severe gum disease took a toll on these two front teeth.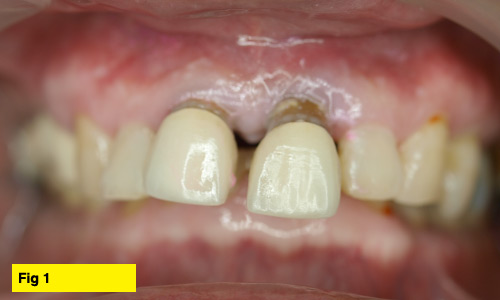 Fig 1- The state of his dentition before treatment
The two front incisors were crowned with a porcelain fused to metal crowns , however they have over-erupted with exposed roots as well as deep pocketings. He was also experiencing acute peri-apical periodontitis which caused him discomfort and disruptions of his normal diet. The prognoses of these two teeth were grave!
Treatment Planning
The patient was prepared by initially treating his active gum disease by scaling and polishing as well as using daily Chlorhexidine mouthwash rinse.
The affected teeth which were the two upper first permanent incisors were removed . The sockets were curettaged and cleansed with 0.2 % Chlorhexidine solution. Two titanium dental implants were placed together with Hydroxy-apetite graft . A resorbable membrane was also placed as part of the guided tissue regeneration process. Resorbable sutures ( stitches ) were placed to restore the gingival integrity.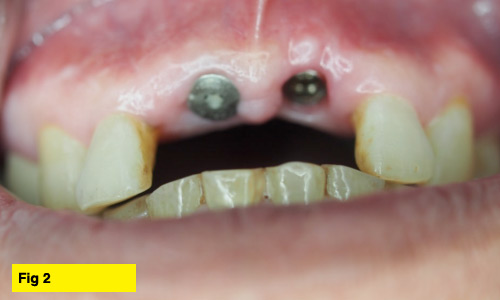 Fig 2. Core crowning of implants
Temporary removable partial dentures were given to him to restore his appearance with some function.
Three months later he came back to Malaysia and we proceeded in doing a second stage for him and final impressions were taken. We proceeded in making him Zirconium Crowns for the implants.
The prosthesis is a screw-retained type so that most implant dentists can easily remove it for professional cleaning. This prosthesis is made using high tensile metal and German pink and white porcelain.
Fig 3. After crowning of the implants
A pleasing outcome resulted in restoring his confidence and he is able to meet people against close without the embarrassment!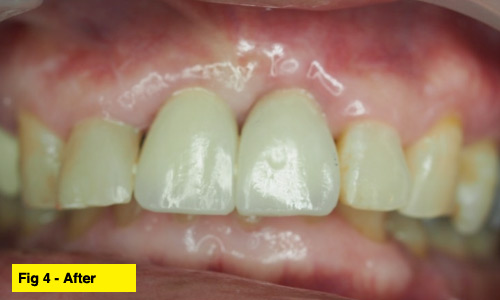 Fig 4. Before and After
Conclusion
he placement of dental implants for the replacement of anterior teeth has helped this man to not only becoming dentally healthy but also restoring his appearance to a natural conclusion.